We are happy to announce great news! The third season of the Polish Films for Foreigners film cycle started in October. What is the PFfF? It's a cultural initiative of the New Vistula Cinema, which opens the way to experience Polish culture through screenings of Polish films with English subtitles.
The repertoire is not coincidental – during the screenings we show mainly new productions that have been appreciated by Polish and international critics and audiences. The cycle is unique not only because of the selection of titles. Each meeting is preceded by a short introduction in Polish and English, and after the screening we encourage the audience to take part in a discussion.
Each time we try to invite the creators of the feature.
The screenings usually take place on the second Tuesday of each month at 8:15 p.m. This season the ticket price is PLN 19.
What have we prepared for the coming months?
13.12.2022 – Lombard/The Pawnshop (2022), dir. Łukasz Kowalski – the only screening outside the Millennium Docs Against Gravity festival! https://www.polishdocs.pl/en/films/2411/the_pawnshop
10.01.2023 – Zadra/Splinter (2022), dir. Grzegorz Mołda https://festiwalgdynia.pl/en/filmy/splinter/
7.02.2023 – Słoń/Elephant (2022), dir. by Kamil Krawczycki, Best Film Award in the Micro-Budget Film Competition at the 47th Polish Film Festival in Gdynia For the most fulfilling debut, for a shamelessly romantic melodrama, an honest and courageous film.
We warmly encourage you to put the screening dates on your calendars and hope to see you at the cinema!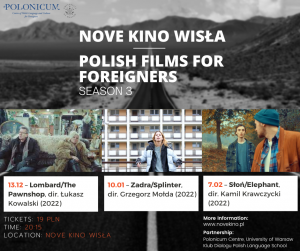 ---
Data publikacji: 12 grudnia 2022