During the meeting, the following topics will be covered:
whom you can ask for help in dangerous situation
what the powers of Police and City Guards are
how to avoid becoming a victim
what is forbidden to do and for what behaviour you can get a ticket
more about public transport and taxi
how to behave in case of a terrorist attack threat
what the most dangerous places in the city are
and many more issues
The training takes place on 13th December, 1 pm, on Faculty of Modern Languages.
To sign up click the link below: registration link.
The deadline to fill in this declaration is this Sunday 11st December, at 11 pm (We strongly suggest to do it now).
In case of any doubts, please e-mail us: welcome.event@uw.edu.pl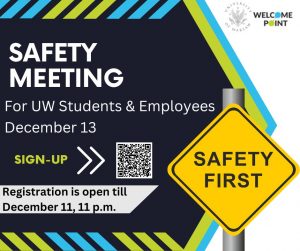 ---
Data publikacji: 07 grudnia 2022