21 marca 2023
27 June – 7 July 2023 – Luxembourg
Every year, the EIB Institute hosts the EIB Summer School with the aim to:
provide Master's students with first hand insights about the core activities and responsibilities of the EIB Group
build and strengthen a network of current and future stakeholders of the EIB Group through its alumni programme
The Summer School addresses an interdisciplinary and international group of Master's students from selected partner universities. Participants engage in lectures, seminars, group discussions and case studies to gain a deep understanding of the mission and impact of the EIB Group and how it answers current challenges of the EU and beyond.
Participants have the unique opportunity to get the faculty's insider view on what it means to be part of the EIB Group and how staff members apply theoretical concepts to very practical challenges of global impact.
The Summer School invites a group of 70 Master's students to join a 10 day programme – 3 participants will be selected by UW. Students cannot apply directly. The selection proces is fully managed by the International Relations Office.
Through their lectures, EIB staff members provide insights on how the EIB Group answers the challenges facing the EU:
acting in the financial market as a key global player in fighting climate change
analysing and managing risks relevant to funding green investment projects
assessing investment projects from a technical, economic, legal and compliance standpoint
defining strategies for the promotion of the European Green Deal
The academic part includes 4-5 hours per day. Beside the curricular activities, participants will collaborate in small multi disciplinary working groups on an assignment that they will present to a jury and their peers on the last Friday of the Summer School. The programme concludes with a festive dinner and celebration in one of Luxembourg's castles and an (optional) alumni gathering over the weekend.
Draft programme and courses examples
Target students:
The EIB Summer School addresses Master's students from all academic fields Students with an interest in sustainability, climate change and environment as well as students with a background in engineering and other hard or life sciences.
All participants shall have a substantial understanding of the functioning of European institutions and a basic understanding of finance banking.
Formal requirements:
Master's student or the last 2 years of 5-year master's studies.
Under 32 years of age
Signature of participant agreement
EU citizenship is not required. Where applicable, visa fees and handlng shall be covered by the applicant.
The course language is English. Participants commit to attend all academic courses as well as all on-site activities. Upon completion, students receive a certificate of attendance issued by the EIB Institute and are eligible to take part in all EIB Summer School Alumni Programme's activities.
Fees:
There are no attendance fees for the Summer School Board and accommodation of the entire official program (and of the EIB Alumni weekend) are covered by the EIB.
Application terms and dates are not yet defined. The information will be published on our website after the Information Meeting.
Don't miss the Information Meeting with the EIB Institute's representatives:
Monday, 27 March 2023, at 4:00 pm CEST (16:00) on Zoom platform: Click to join
More information about the EIB Institute Knowledge Programme – Brochure Knowledge Programme at a glance
---
27 lutego 2023
CENTRAL Workshops 2023
CENTRAL-Workshops are networking projects for groups of researcher of the CENTRAL universities in order to initiate new joint collaboration (incl. innovative teaching/training for young researchers) or to consolidate existing collaboration.
Open to all disciplines! 
Supported Activities:
CENTRAL-Workshop projects will fund one or two, 2-3 day meetings at one of the involved CENTRAL partner universities (or two, if two meetings will be held). 
Execution period: 01/09/2023 – 01/09/2024 
Funding: 
Costs for travelling and accommodation: will be covered by the sending institutions.
Please be advised that travel costs might change until the workshop takes place (plan conservatively) This will be taken into account during the review of the applications

Costs for catering, rental costs for of seminar room: will be covered by hosting institution.  

Funding regulations of each institution shall apply. 
Project team: 
Each project team shall comprise groups of researchers of at least three CENTRAL universities. Each group of researchers preferentially consists of 2-4 researchers of one CENTRAL university (inter/multi-disciplinary groups are possible) and has to include at least one established researcher (Post-Doc with at least 5 years of research experience), who will also act as group leader of its university, and at least one PhD-student. 
Application: 
Applications have to be submitted before deadline via e-mail to central-network@univie.ac.at, using the application form. Applications submitted after deadline will not be considered for evaluation. 
Applicants can be any senior PostDoc academic (at least 5 years of postdoctoral research experience) of any academic discipline, employed at any university of the CENTRAL network
Submission deadline: 17/03/2023 – 23:59 CET 
---
07 grudnia 2022
During the meeting, the following topics will be covered:
whom you can ask for help in dangerous situation
what the powers of Police and City Guards are
how to avoid becoming a victim
what is forbidden to do and for what behaviour you can get a ticket
more about public transport and taxi
how to behave in case of a terrorist attack threat
what the most dangerous places in the city are
and many more issues
The training takes place on 13th December, 1 pm, on Faculty of Modern Languages.
To sign up click the link below: registration link.
The deadline to fill in this declaration is this Sunday 11st December, at 11 pm (We strongly suggest to do it now).
In case of any doubts, please e-mail us: welcome.event@uw.edu.pl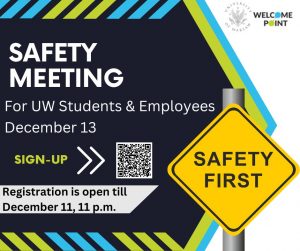 ---
18 listopada 2022
in partner institutions of strategic importance – co-financing for travel costs
Continuous call from 03.11.2022 until funds run out, but not later than until 28.02.2023 at 4:00 p.m.
Terms and conditions of the Programme and application form available at: II.1.2. Establishing and strengthening cooperation with strategic partners – pilot programme 2
For information, please contact:
Mr Ireneusz Grejcz
tel. +48 22 55 24 008
ireneusz.grejcz@adm.uw.edu.pl
---
28 września 2022
BIP for PhD. Students – Call for proposals  – "Central Europe: What unites and divides us" 21-25 November 22
I. General information
The CENTRAL Network primarily promotes cooperation in the fields of teaching, research and support for young researchers. In connection with the opening of the second stage of the cooperation, CENTRAL announces a special topic followed by further activities. Each of these topics has had wider social or political importance, especially within the context of Central Europe. The goal for academics or PhD. students from different countries, backgrounds and areas of study is to come up with multilateral ideas and solutions. The theme is "Central Europe: What unites and divides us". The purpose of the meeting is to connect senior academics with Pd.D. students and together try to discuss the problems of Central Europe – specifically what unites or divides us. The whole event will be divided into six sessions led by selected academics. They will start with a lecture on the topic. This will be followed by a workshop in which each student will have to give a paper of about 15 minutes, followed by a debate moderated by the selected academic.
The CENTRAL BIP for PhD. students aims to bring PhD. students and selected senior academics from the CENTRAL member universities together. A virtual meeting of all participants will take place approximately two weeks before the workshop. The content will include a lecture by a leading academic on the topic of Central Europe. It will be an overall reflection on Central Europe, which should still inspire students for further discussions in their personal encounters. At the end of the lecture, the topic can be further developed in the discussion and students can clarify the main ideas for their presentation.
The main workload for students will be preparing a 15 minute paper to present in a face-to-face session. At the same time, they will have to answer questions that will arise from the debate of all present at the event under the guidance of the academic. As this will be a general question on the development, history and present of Central Europe, the student should have the knowledge and competence to place their paper in a more general context. The quality of presentations and active participation during the debate will also be evaluated. The evaluation will be carried out by the participating academics.
II. Date / Venue
| | |
| --- | --- |
| BIP – virtual | November, 2022 (tbc) |
| BIP – physical | November 21 – 25, 2022 |
| | Charles University, Prague |
III. Topics based on the given topic
Virtual component
Series of lectures
Workshops
Additional program
IV. Financing under the Erasmus+ rules
travel and accommodation expenses: will be covered by the sending institution (Erasmus+ Blended Intensive Programme)
catering and rental expenses for seminar room, additional program, remuneration to CU employees and foreign lecturers: will be covered by hosting institutions
V. Application
Application forms have to be submitted before the deadline via e-mail directly to klementyna.kielak@adm.uw.edu.pl 
Deadline: October 8th, 2022 (20.00)
VI. Evaluation procedure
A selection committee at each university will select 5-6 PhD. students.
The assessment of applications will involve:
Selection based on abstracts on the given topic
Description of the planned activity and contribution
VII. Programme:
Monday

21.11.

Tuesday

22.11.

Wednesday

23.11.

Thursday

24.11.

Friday

25.11.

9,00 – 10,30
Arrival

Lecture and discussion
Lecture and discussion
Lecture and discussion

Cofee break
CU
CU
CU
11,00  – 12,30
Welcome and Introducing CENTRAL
Student Workshops I
Student Workshops III
Student Workshops V
Clossing remarks
Lunch
CU
CU
CU
CU
CU
14,00 – 16,00
Tour of the university
Student Workshops II
Student Workshops IV
Visit of selected faculties
Departure
Additional Programme
Welcome dinner
Tour of Prague (Central Europe and Prague)
Farewell informal dinner
---
27 września 2022
All the exchange students are invited to take part in our Orientation Week! Please register to the events and inform us if you resign.
Plan of the Orientation Week 22/23.
Mobile version of the plan is available here.
---